William Morris's Socialist Diary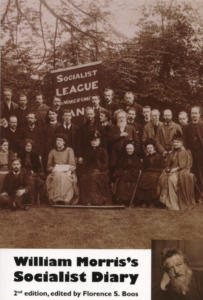 William Morris was the most prominent Victorian artist to embrace the new socialist movement of the 1880's. From 1883 to 1890, he continues to maintain Morris and Co., but devoted most of this period to the cause of socialism. He made strenuous propaganda tours; wrote socialist songs, poems, novels and a play; edited and wrote for the socialist newspaper Commonweal after 1885; and led from 1885 to 1890, one of England's two major socialist organisations, The Socialist League.
Morris's Socialist Diary of 1887 is one of the most interesting writings from this period of his work. It is one of only two extended diaries of his activities which he kept in his life, each of which represents an effort to record and analyse experiences of a new phase of his work and thought.
Edited by Florence S Boos, who teaches Victorian poetry, non-fiction and cultural studies at the University of Iowa. She is the general editor of the William Morris archive.
Published by: Five Leaves Publications
Author: William Morris