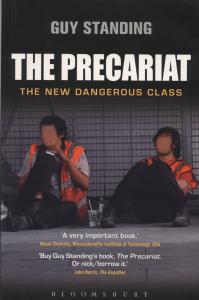 The Precariat
The New Dangerous Class
Guy Standing
First published 2011
This edition 2014
Reprinted 2015 (Bloomsbury Academic)
The Precariat is the influential first account of an emerging class of people facing lives of insecurity, moving in and out of jobs that give little meaning to their lives.
The book warns that the rapid growth of the precariat is producing danderous instabilities in society. Its internal divisions have led to the villanization of migrants and other vulnerable groups and some are susceptible to the siren calls of political extremism. Guy Standing argues for a new politics, in which redistribution and income security are reconfigured and in which the fears and aspirations of the precariat are made central to a progressive strategy.
Since this book was published, the precariat has become an ever more significant global phenomenon, highly visible in the Occupy movement and in protest movements around the world. In a new preface, Guy Standing discusses such developmens. Are they indicative of the emergence of a new collective spirit, or do they simply reveal the growing size and growing anger of this new class?
From back cover
'Guy Standing provides an incisive account of how precariousness is becoming the new normality in globalized labour markets and offers important guidelines for all concerned to build a more just society.'
Richard Hyman, London School of Economics.
Guy Standing is Professor of Development Studies at the School of Oriental and African Studies (SOAS), University of London.
A sequel to this book, A Precariat Charter, was published by Bloomsbury in 2014, and a co-authored book, Basic Income: A Transformative Policy for India was published in 2015
Author: Guy Standing