The Future We Choose – surviving the climate crisis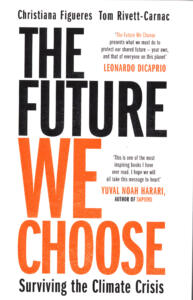 The Future We Choose is a passionate, compelling, and proactive call to change in the face of the climate crisis. Christiana Figueres and Tom Rivett-Carnac differ in their backgrounds but share a common deep concern for the future of our planet. Their perspectives are blended in this works to educate, enlighten, and encourage readers to recognise the climate emergency and act on it.
Published on 25th February 2020 just a month before the Coronavirus pandemic sent the UK, along with the rest of the world, into lockdown, this book has an even deeper significance, as it discusses a futuristic possibility of fewer cars on the road, cleaner air, community collaboration, shopping locally and home-growing vegetables, almost mirroring the dystopian reality that set in as people everywhere stayed home in fear of the virus, enjoying home cooking, baking, gardening, and where helping out others in the community became part of daily life.
Christiana Figueres was the UN Executive Secretary for Climate Change between 2010 and 2016. She was the public face of the most pivotal climate agreement in history. The Paris Agreement, in 2015.
Tom Rivett-Carnac was senior political strategist for the Paris Agreement. Together they are the co-founders of Global Optimism, an organisation focussed on creating environmental and social change, and co-hosts of the podcast Outrage and Optimism.
Author: Christiana Figueres & Tom Rivett-Carnac