Edmund Frow (Eddie) 1906 – 1997: the making of an activist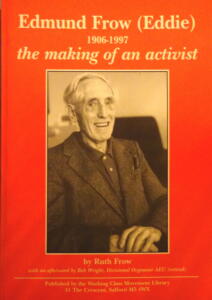 Edmund and Ruth Frow were the founders of the Working Class Movement Library in Salford:
Foreword by Frank Allaun
Ruth Frow has chosen a fitting subtitle for this splendid life story of her husband who died in 1997, just short of his 91st birthday: 'The Making of an activist'. Eddie Frow was not only an activist in the trade union and political fields. He was also a voracious reader, a booklover, who was 'never without a book in his hand', as Ruth puts it. He was too, a public speaker, lecturer, writer, historian and librarian.
No-one could write a better biography of Edmund Frow than his wife and comrade, who shared his thoughts and struggles as well as their long walks together in the countryside.
Eddie had a hard and exciting life, both in industry and in politics. For four years he was unemployed. If an accurate account of existence for millions in the twenties and thirties is wanted, this book is invaluable. It deals with the dole of 18 shillings and three pence a week being cut by the Tory government to 15 shillings and three pence; or with the damp, rotten, overcrowded, cold slum houses. The book describes Eddie's arrest by the police and his imprisonment for four months for leading an unemployed demonstration in Salford. (This event was described by Walter Greenwood in his world famous novel Love on the Dole, in which Frow's name alone was changed.
He was so concerned and militant in getting fellow factory workers into the union that, the author reports, he used to say that he worked in 21 engineering factories and only walked out of one of them. All the others he was blacklisted, victimised and sacked by the employers.
He won election to the AEU National Committee and later he was elected to the powerful Manchester District Committee of the Amalgamated Engineering Union, to become its full-time District Secretary.
The couple spent their weekends and holidays touring the country in an old van (with a tent on board) looking in second hand bookshops for early and rare editions of books of value to the Labour and trade union movement. Ruth tells of their joy when they found and secured a first edition of a wanted book.
The rooms of their semi-detached house in Old Trafford were bursting with volumes and union banners (even in their bedrooms!). Subsequently the Labour-controlled Salford City Council provided most generously for their growing collection to be housed in a magnificent house opposite the University, formerly a nurses home. Today it is visited by writers, students, historians and trade unionists from all over the world.
For over seventy years Eddie Frow was a member of the Communist Party, although he was shaken in 1956 by the Russian invasion of Hungary and President Brezhnev's speech revealing Stalin's misdeeds. After the second world war Ruth understood that he appreciated that the Revolution would be longer in coming than he first thought.
The author, a teacher, with a Master of Education degree and an honorary degree from Salford University, has spent nearly all her life in helping the working class movement – as this book will surely do.
Frank Allaun
Introduction
This biography of Edmund is anecdotal because it covers only certain aspects and highlights of his long ad active life.
There is a story to be told of his involvement in the internal life of the Amalgamated Engineering Union, his participation in many hard fought elections and his support for many progressive causes within the Union. That will need to wait until a young scholar is prepared to undertake the research of all the materials in the vast archive of notes and records that Eddie always kept.
There is another story of his active political life and his advocacy of whatever cause happened to be urgent at the time. I have only touched on it.
The story of his building the Working Class Movement Library is the aspect of his life that I know most about and I found the most difficult to write because it involves myself. It also needs a better memory than I have. The memorial volume Born with a Book in his hand published by the North West Labour History Group soon after he died covers much that I have left out.
The Frow archive consists of his diaries, notebooks, programmes, and every scrap of paper that he handled over seventy years. It is vast and badly in need of sorting and categorising. It is in files and boxes on the shelves of the Working Class Movement Library and can be made available to researchers.
Ruth Frow
The Working Class Movement Library
Author: Ruth Frow