Churchill's Favourite Socialist – A Life of A. V. Alexander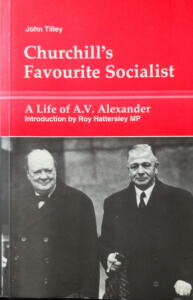 A.V. Alexander was elected as the Co-operative MP for Sheffield, Hillsborough in the 1922 General Election and he served as MP for Hillsborough until 1950 with one break in (he lost his seat in 1932 and regained it in 1935). From 1929 as a result of the electoral agreement with the Labour Party, like all other Co-operative MPs, he stood on a joint Co-operative and Labour ticket.
He served as Parliamentary secretary to the Co-operative Congress.

Became a minister in the first Labour Government in 1924 as Parliamentary Secretary to the Board of Trade (The Department of Sidney Webb).

Entered Ramsay MacDonald's Cabinet in 1929 as First Lord of the Admiralty.

Served as First Lord of the Admiralty under Churchill and Attlee

Served as Minister of Defence from 1946 in Attlee's Labour Cabinet

Went to the House of Lords in 1950

Leader of the House of Lords 1955 – 1964
"Perhaps if A.V. had not lost Hillsborough and had become at least Deputy Leader of the Labour Party in 1931, The Co-operative economic policy might have had a greater influence".
This is a very readable and interesting biography. The Sheffield Co-operator reported all of his activities from its first edition in 1922 to its last in 1939.
Also recommended 'The myth that will not die: the formation of the National Government 1931' by Humphrey Berkeley.
Published 1978
Author: John Tilley